Accessoires
To practice the piano, you need correct seating. We have on offer a wide variety of benches, priced according to the type of cushion – fabric or leather, the style of the legs – e. g., Chippendale, straight or special styles – or the quality of the bench height adjustment mechanism.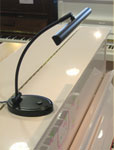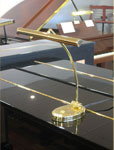 It is essential for the musician to be able to see the sheet music correctly. This is why we also have a good choice of purpose-built lamps – for both uprights and grand pianos.
To keep in time, you definitely need a metronome. These can be either electronic or mechanical, and are priced between 37€ and 80€. You are certain to find at Pianos Varlet the device that suits you best.
These accessories are sometimes – indeed, often – given as "free gifts" when you buy one of our instruments. And this can be true even when buying a previously-owned piano. Check with us.